Awh... red buffet/dresser I wish I could fit you in my house.
So, I get this dresser at what has become my favorite thrift store, DAV in Des Moines, Iowa. I think I've bought a piece of furniture everytime I've been there. I live two hours away, so that's only been like 3 or 4 times. I wish I could get up there more. I have become addicted. I can't wait until this summer when I will have more time!!!
So, here is what the dresser looked like when I got it.
It got to be a catch-all in my mudroom for a couple weeks. It came with an attached mirror. The mirror is gorgeous. The mirror made me think it was a dresser, not a buffet, but without the mirror I think it looks more like a buffet.
Really it was in fine shape, but I wanted to "practice" what I'd been reading about on blogs. I already had red in my head. This is my mudroom color and I already had the color picked out, but my husband likes to say that he came up with the color red. :) Because I did ask his opinion.
I took off the handles, put some orange stripper on the top and stripped. It took forever for the top to dry. While waiting for that I painted the dresser red. I did not prime, I did not sand. The dresser accepted the leftover latex fine. I painted three coats because it seemed to go on streaky showing the brush strokes.
Here is what I learned...
Never use stripper!! I guess the top has a veneer layer on it? So, the moisture of the stripper got up under it and made this bubble. I learned that next time, just use the sander!! I know I could take a syringe and shoot glue under it and clamp it or lay a heavy book on it or something, but I didn't think it was worth it. It is still a beautiful piece.
It also discolored the top. Not sure why, but it wasn't like this when I started...
Now this beauty is for sale at
The Columns
in my room in the basement.
Linked to: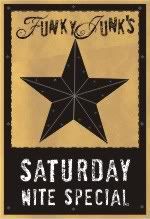 Saturday Nite Special #120